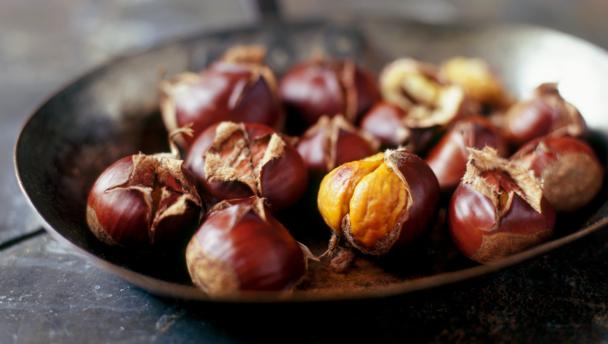 There are many different breeds of chestnuts which grow natively (although perhaps the most famous of them all, the Horse Chestnut, isn't actually a true chestnut), here in the UK and they all have beauty benefits which can be harnessed. The clever folk at Dermalogica have used various chestnut types, including horse chestnuts, in a number of their products to give you the best of what this little nut has to offer. Here's a pick of the most popular ones:
Dermalogica Sebum Clearing Masque
This clever masque acts in a number of ways, from absorbing excess oil to actively helping to reduce over production of sebum in the future. It's suitable for acneic and breakout-prone skin. It contains salicylic acid, as well as many other natural ingredients and the chestnut works to reduce inflammation and redness, keeping sebum production to a minimum.
Shaving is one of the main irritants to men's skin and requires the use of excellent products to reduce the negative impact. A post shave balm should cool and calm the skin, and this one from Dermalogica harnesses the power of horse chestnut seed extract, which has natural anti-inflammatory properties.
Dermalogica Oil Free Matte SPF30
Sunscreen during the warmer months is an absolute must, but if you have oily skin then regular SPFs can play absolute havoc with your face. This oil-free formulation from Dermalogica not only lacks the usual oily texture of most SPFs, it also contains ingredients (including chestnut) which help to actively reduce the skins ability to produce sebum.
Dermalogica Oil Control Lotion
If you suffer with oily skin, you'll know that keeping the shine at bay can be an all-day battle and that you need some seriously powerful products in your arsenal. This lotion from Dermalogica is designed to control your skins ability to produce sebum and contains enantia chlorantha bark extract to help regulate sebum to reduce oily surface shine, as well as horse chestnut, liquorice, panthenol and caffeine to regulate sebum production and soothe inflammation.
Dermalogica Clearing Mattifier
One of the main functions of chestnut within many of these products is to help with the regulation of sebum production (which, in layman's terms, means it helps to stop your face from looking too greasy). It acts in this mattifying lotion alongside other bioregulators, such as niacinamide, yeast extract, licorice, panthenol (pro-vitamin B5) and caffeine to reduce oil and shine.